posted on September 11, 2014
when i was in high school, opportunities to see my favorite bands were extremely few and far between. the bigger bands rarely came through my town and when they did, i had to hope that it wouldn't be an 18+ situation. 
finally i became resourceful enough to lurk makeoutclub for cool people in neighboring cities in hopes of finding a couple of buddies to meet up with should i ever decide to travel to see a show.
karl was several years older than me and seemed cooler than anyone i had ever known. he was so chill and lived a life that i envied and aspired to have. he gave no shits about his job, liked to go out and have fun, played in a band, looked how he wanted to look and had a bunch of cool, like-minded friends. the recipe for a happy life appeared so much simpler when i was 16.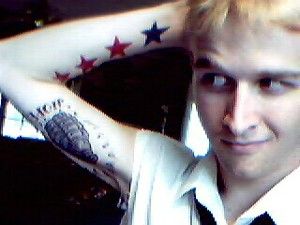 karl was always down to chat about pop punk bands, cool shows and tattoo ideas. karl had a friend that worked at universal music and said if i ever wanted cd's he could send them to me for free. i thought this was the coolest fucking thing ever (fun fact: a decade later i, too, would work at universal music). on top of that, he lended an ear whenever i wanted to complain about my trivial high school issues and he said we could for sure hang out should i ever trek down to atlanta for a show. 
finally, in november of 2002, i made secret plans to sleepover at a friend's house when in reality we were going to drive down to atlanta to see a new found glory, something corporate and finch.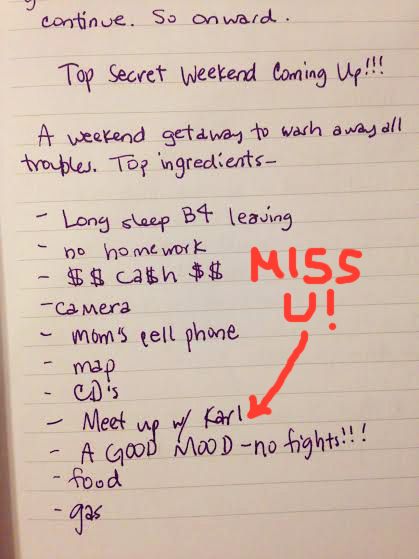 i was ready to go and karl was ready for me to arrive.
but the trip never happened. as you can see from the journal entry, there was a lot of drama in the air at the time. i've forgotten what the fuss was about but highly likely it was stupid. my friend bailed on me at the last minute and i didn't have the balls to go to atlanta alone. 
karl was expecting me and disappointed when i didn't show. i wish more than anything that i'd gone and gotten a taste of the perceived life that i'd wanted. 
there are numerous journal entries bemoaning this missed opportunity. i'd like to think that i've done enough in my adult life to make up for this but i think i will always be a little bit sad that i didn't get to experience it when it mattered the most.
as for karl, i have no idea where he is now. we haven't spoken in any internet capacity in well over a decade. 
i hope he is well!
—GRACE